SCHOOL OF NATURAL & APPLIED SCIENCES
BACHELOR OF SCIENCE HONOURS - PHYSICAL SCIENCES
Period of study: 1 Year (Full-time); 2 Years (Part-time)
Background
This programme is designed to equip graduates with vast knowledge in the physical sciences, including advanced topics in Chemistry, Physics and Geography.
Furthermore, this qualification also includes a research project which is primarily aimed at introducing students to the postgraduate-level academic experience. The required set of skills and the knowledge creation that takes place during the course facilitate the student's journey as a professional researcher, scientist and academic.
Admission requirements
(a) The General Rules of Sol Plaatje University in respect of admission to Bachelor Honours Degrees (aligned with the Higher Education Qualification Sub-Framework: HEQSF) are applicable to this degree.

(b) To be admitted to the Bachelor of Science (Honours) programme, a student must be in possession of an acknowledged Bachelor qualification at NQF Level 7 or cognate qualification, with an average of at least 60% in four major subjects in the final undergraduate year.

(c) The University's formal Recognition of Prior Learning (RPL) Policy may be applied in instances where applicants do not meet the minimum admission requirements for entry into the Honours Degree.
 Programme Structure
The Bachelor of Science (Honours) in Physical Sciences can be completed in one year on a full-time basis or in two years on a part-time basis.  
Students must take and pass courses totalling at least 120 credits allocated as follows: 
At least five or six compulsory modules and elective modules
From the above, choose ONE with 16 credits or TWO with 8 credits
Compulsory research project
The curriculum is developed for three fields of specialisations in Physical Science, namely:
Chemistry
Geography
Physics
show more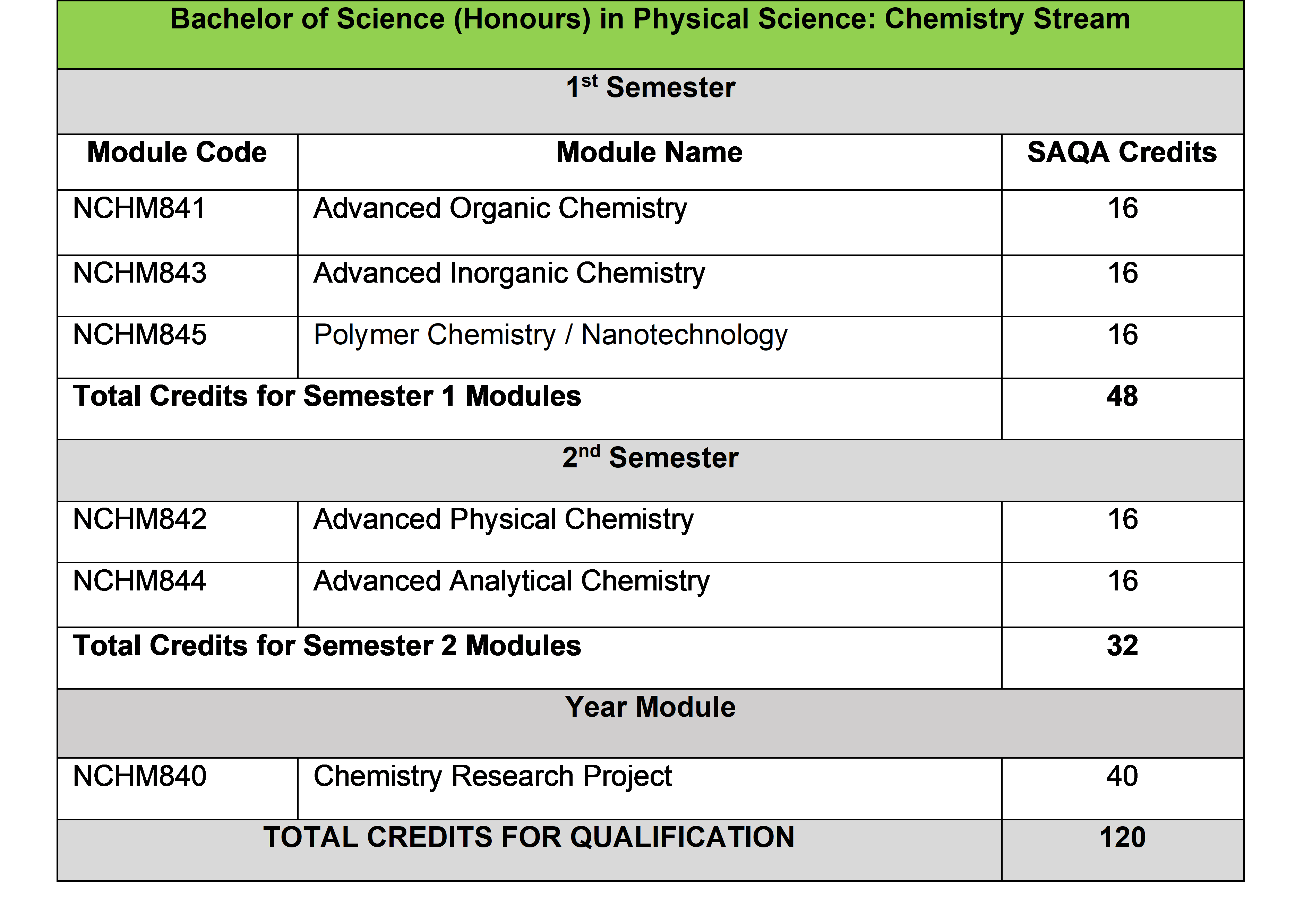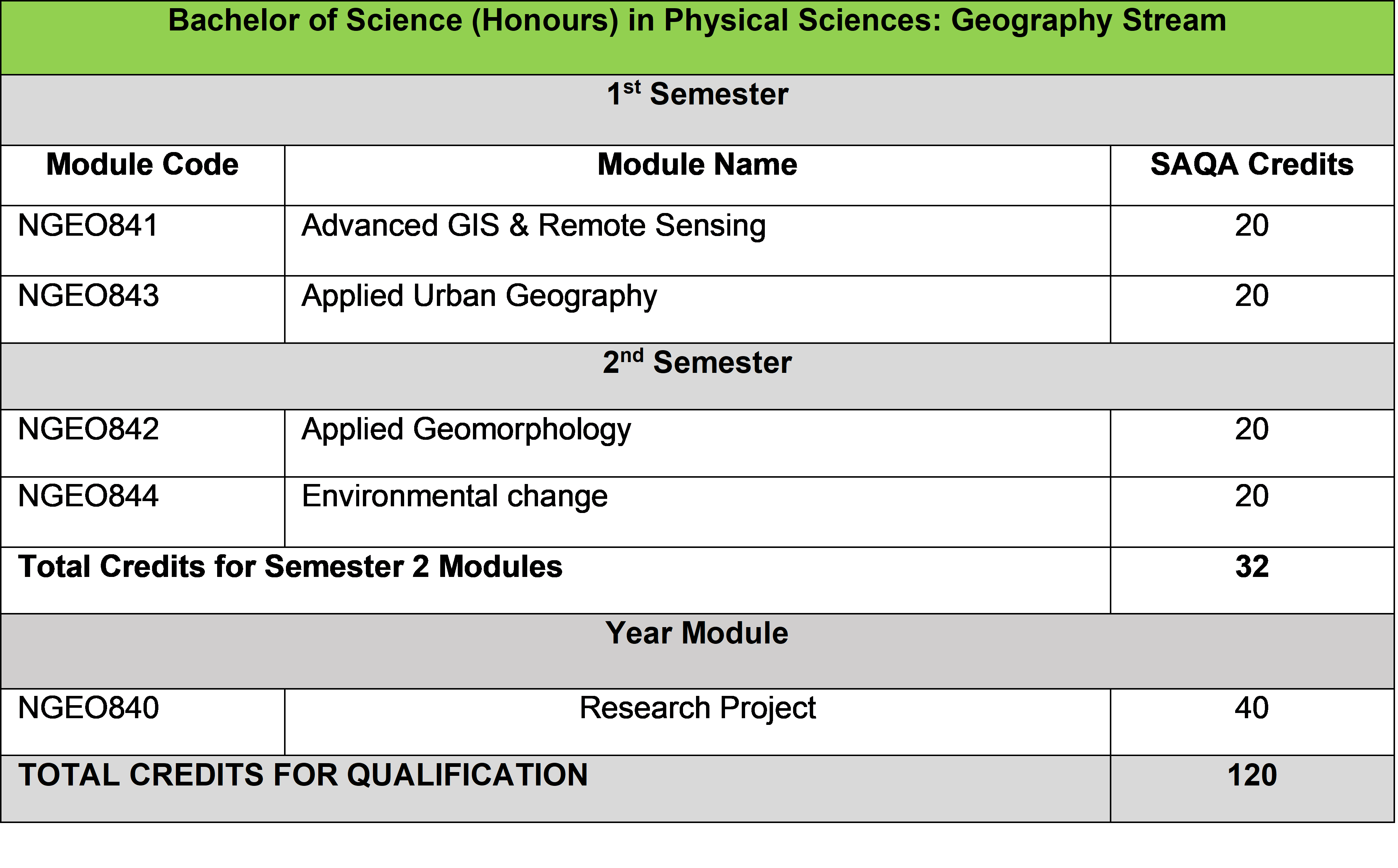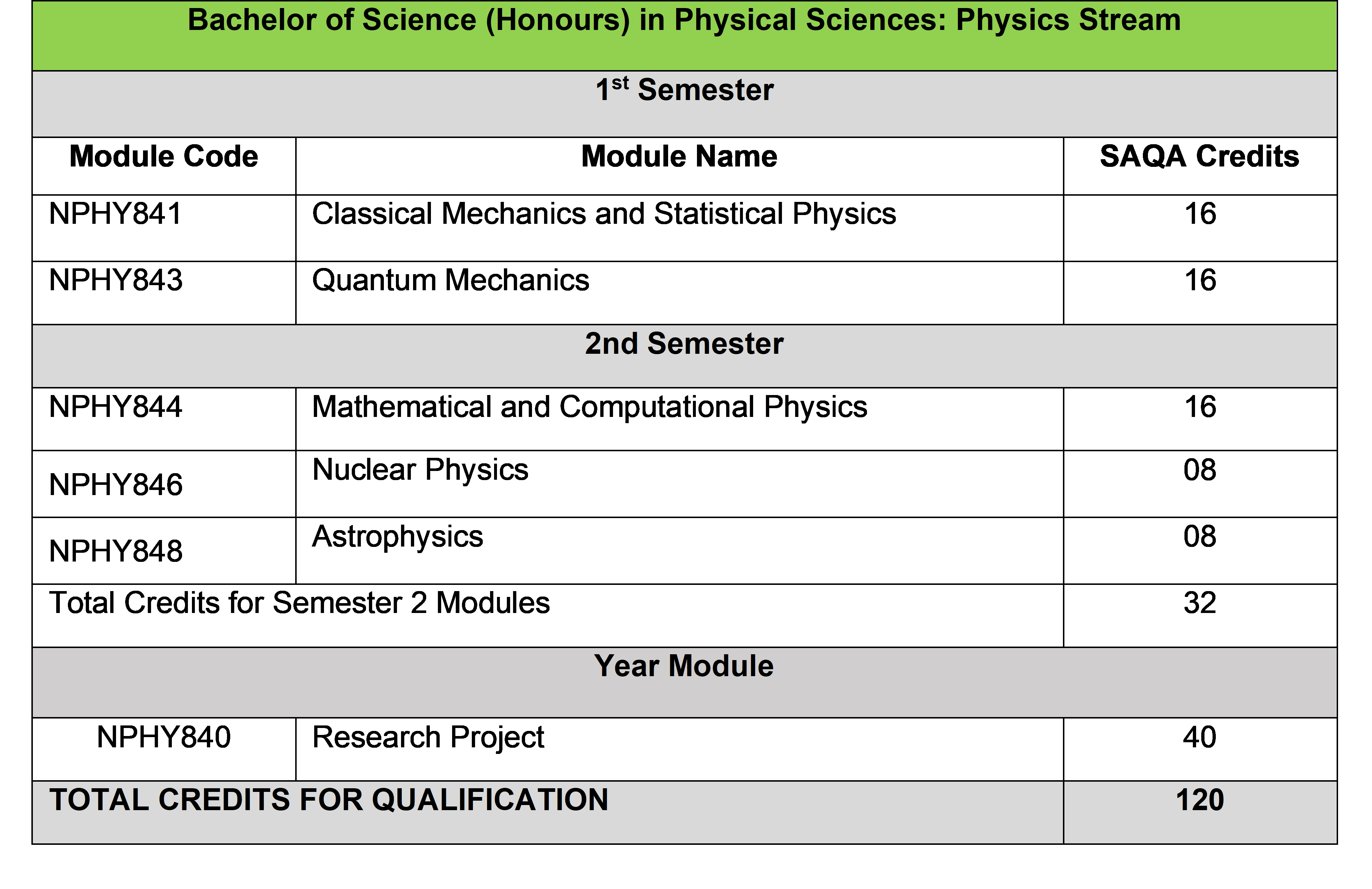 Less

Science graduates are open to various career opportunities in academic, Government and industry.

Jobs are available in research and development, chemical analysis, quality control, and environmental monitoring among others. Medical and forensic laboratories, public institutions such as government departments, and in teaching profession in secondary schools and higher education institutions.
For more information, please contact the School Registrar Ms Nobulali Mathimba on (053) 491 0369 or postgrad.nas@spu.ac.za.  
You can download a comprehensive list of all our qualifications that will be offered in 2022 by clicking here.