SCHOOL OF NATURAL & APPLIED SCIENCES
MASTER OF SCIENCE (e-Science)
Period of study: 2 Years (Full-time); 3 Years (Part-time)
Background
The Master of Science in e-Science degree at Sol Plaatje University is completed by coursework and a mini-dissertation research report.
A candidate must successfully complete the following courses to obtain this degree:
– Research Report: Data Science
– Research Methods and Capstone Project in Data Science
– Data Privacy and Ethics
And any four courses from the list below are subject to the approval of the Senate:
– Adaptive Computation and Machine Learning
– Data Visualisation and Exploration
– Large Scale Optimisation for Data Science
– Large Scale Computing Systems and Scientific Programming
– Mathematical Foundations of Data Science
– Special Topics in Data Science
– Statistical Foundations of Data Sciences
This is a research-focused Master of Science (e-Science) degree conferred after accepting a mini-dissertation on an approved topic in the field of Data Science embodying original research as approved by the Senate.
Admission requirements
The minimum admission requirement is a relevant Bachelor of Science Honours Degree in a relevant discipline in Science (Computer Science, Mathematics, Physics, and Statistics) or an appropriate NQF level 8 qualification.

A "professional" Bachelor's Degree with a minimum of 96 credits at Level 8 or a cognate Postgraduate Diploma with demonstrable knowledge of basic principles of Computing, Calculus, Linear Algebra, Probability, and Statistics may also be recognised as meeting the minimum entry requirement to the Master of Science (e-Science) degree programme. 

Ad eundem gradum

 students should submit a portfolio of satisfactory evidence of their suitability for admission into the degree to the Head of Department.  

Students should have at least 65% of all the courses completed in their NQF level 8 qualification

.

 

Candidates with less than 65%, who have relevant Industry/professional experience, will be considered upon recommendation from the Head of Department. 

University's Policy governs RPL admissions

 on Recognition of Prior Learning

. 

In

 

addition to the above, admission is dependent upon the supervision capacity of the department in terms of the availability of a supervisor.    
 Programme Structure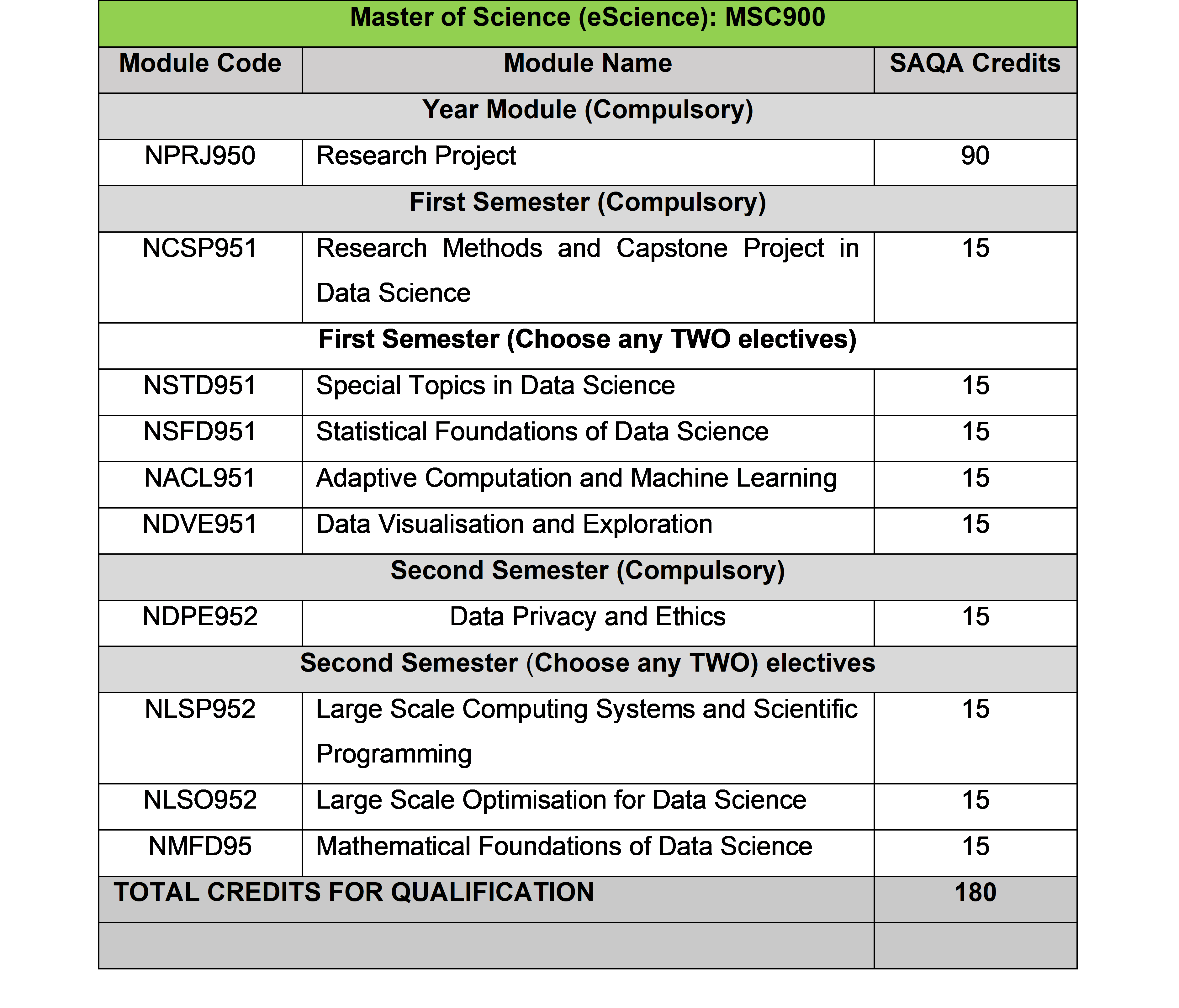 Science graduates are open to various career opportunities in academic, Government and industry.

Jobs are available in research and development, chemical analysis, quality control, and environmental monitoring among others. Medical and forensic laboratories, public institutions such as government departments, and in teaching profession in secondary schools and higher education institutions.
For more information, please contact the School Registrar Ms Nobulali Mathimba on (053) 491 0369 or postgrad.nas@spu.ac.za.  
You can download a comprehensive list of all our qualifications that will be offered in 2022 by clicking here.