SCHOOL OF NATURAL & APPLIED SCIENCES
BACHELOR OF SCIENCE HONOURS - BIOLOGICAL SCIENCES
Period of study: 1 Year (Full-time); 2 Years (Part-time)
Background
This programme is designed to respond to skills development needs of South Africa and the world at large. The programme is designed to develop highly qualified students who are analytical and independent thinkers with knowledge of how to model, evaluate and solve both quantitative and qualitative problems in the biodiversity conservation sciences. The programme also provides a sound theoretical and practical base and exposure to Biological Sciences' disciplines. 
Admission requirements
 (a) The General Rules of Sol Plaatje University in respect of admission to Bachelor Honours Degrees (aligned with the Higher Education Qualification Sub-Framework: HEQSF) apply to this degree.
(b) To be admitted to the Bachelor of Science (Honours) programme, a student must have an acknowledged Bachelor qualification at NQF Level 7 or cognate qualification, with an average of at least 60% in four major subjects in the final undergraduate year. 
(c) The formal university's Recognition of Prior Learning (RPL) Policy may be applied in instances where applicants do not meet the minimum admission requirements for entry into the Honours Degree.
 Programme Structure
The Bachelor of Science (Honours) in Biological Sciences degree can be completed in one year on a full-time basis or in two years on a part-time basis. 
The programme carries 120 credits allocated as follows: 
67% of course work and, 
33% as a compulsory research project
The modules in the programme have no rules of progression. The curriculum is developed for two fields of specialization in Biological Sciences, namely:
show more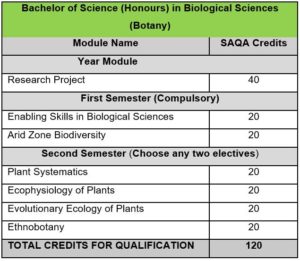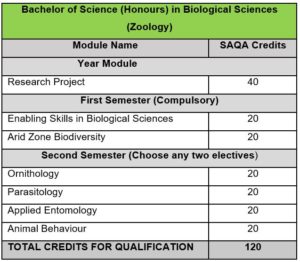 Less

Students engage with the necessary theory and practice that will broaden, deepen and intensify their scope of theoretical concepts and expertise in particular areas associated with the biological sciences.
This qualification also includes a research component which aims at providing students with professional research skills that will enable them to embark on a career as a researcher.
Upon successful completion, graduates may articulate to a master's degree in a related field. Qualifying learners can be employed in many industries which include: conservation, biodiversity sciences, environmental sciences, forensic sciences and academia. In all these areas, biologists work closely with other scientists and researchers to develop biological research techniques, adapt existing techniques, design experiments, and focus analyses on species and habitat conservation at molecular and organismal level. 
For more information, please contact the School Registrar Ms Nobulali Mathimba on (053) 491 0369 or postgrad.nas@spu.ac.za.  
You can download a comprehensive list of all our qualifications that will be offered in 2022 by clicking here.