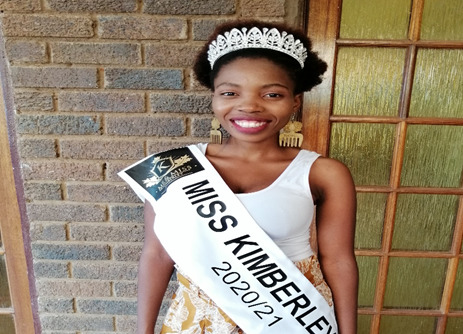 Sharon Van Staden's life will never be the same.
The 22-year-old from Roodepan, Kimberley, achieved her lifelong dream when she was crowned Miss Kimberley 2021 on 19 December 2020 at the Northern Cape Theatre.
Mr and Miss Kimberley is an annual pageant that aims to build and empower the youth of Kimberley, grooming them into young men and women of good stature.
Van Staden, a 2017 Bachelor of Education graduate from SPU, believes she won the pageant due to her pure intentions of giving back to the people of Kimberley. "I knew why I entered the competition; I knew why I wanted to win. I have honest intentions of wanting to serve, build, and motivate people in Kimberley. The judges knew that if I won, I would indeed go all out to give back to my community," said Van Staden.
Sharon feels privileged to be granted this opportunity to serve the sparkling city of Kimberley as it will enable her to live her passion of working closely with the community and working with young people, which are passions that were instilled in her by her grandparents and aunt.
"I was raised by selfless grandparents and an aunt. They played a major role in the woman I have become as the principles they instilled in me moulded me into a caring and compassionate young lady," stated Van Staden.
Her goals during her time as Miss Kimberley include, amongst other things, raising money for disadvantaged communities, assisting at old age homes and playing a part in minimizing gender-based violence through engaging with young men.