21st century campus design and architecture for new universities
As one of South Africa's first two new institutions of higher learning since 1994, Sol Plaatje University (SPU) is envisaged as a symbol of our new order of democracy, inclusiveness, growth and opportunity.
From the perspective of urban design it demands that the institution is both a  centre of academic quality, excellence, innovation, relevant to and engaged within its settings and able to create a growing knowledge environment of the highest standard. Since the start of the infrastructure programme R1,5 billion has been invested in the development of the two new universities enabling both to start their academic programmes in a variety of renovated and purpose-built new buildings on fledging campuses.
The challenge for these new universities was to adapt innovative ideas regarding the release of knowledge development and exchange of information from traditionally isolated activities tied only to lecture halls, laboratories and libraries, and to integrate the development and exchange of knowledge into the campus design and the new buildings. In spatial terms a number of principles drive the design of the infrastructure and architecture of both universities;
– The campus integration with its host city
– Shared space as a driver for the campus plan
– Accommodating students
– Student and staff mobility
– Collaboration and exchange of ideas
– Environmental sustainability.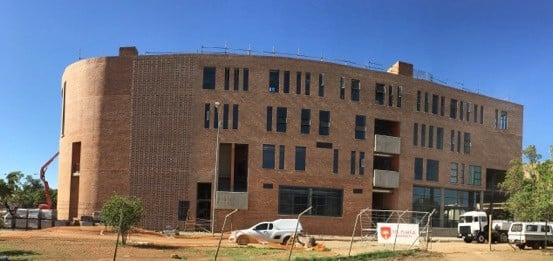 SPU is its way to preparing new buildings for 2020 and 2021. SPU in response to the local community call to be involved in the Capital Developments projects procured 9 contractors: Major Works, Medium and Refurbishment Works, Small Works and Civil Works. 
This has provided for 6 local contractors to be involved. The Major Works Contractors will be involved in the Incubation Programme which provides further opportunities for work as subcontractors. 
Those on the Incubation Programme are mentored by Northern Cape Public Works Department Construction Mentors, Finance Management Instruction from the local SEDA and potential help from the Northern Cape Department of Economic Development and Tourism.