STUDENT HEALTH AND WELLNESS
The Student Health and Wellness Centre is located on the ground floor of the New Academic Building on Central Campus. The student counsellor and a primary health care nurse are available at the Student Health and Wellness centre to offer free services to registered Sol Plaatje University students.
Please call 053 491 0496, or email mpho.setlhabi@spu.ac.za, or come in to book an appointment with Ms. Mpho Setlhabi.
The following health and wellness services are available for students: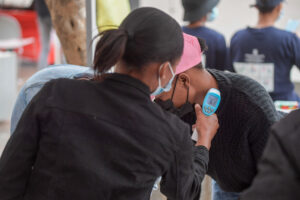 Counselling services are offered by the Student Counsellor, Ms. Nthabiseng Afrika, who is a registered psychologist.
Student counselling service aims to help students minimize the impact of their psychological problems on their academic studies. We offer both virtual and face-to-face counselling sessions.
The counselling services are also operated from a holistic wellness model that supports students in terms of their physical, academic, social, emotional, and spiritual functioning.
How does counselling work?
Proactive: Working closely with academics and other support services to identify problems early. Providing counselling and workshops before problems become acute.
Reactive: Dealing with current/ existing problems that student brings to the counselling service.
Developmental: Providing training workshops/dialogues on various topics.
The Student Counsellor offers the following services for registered SPU students at NO COST:
Individual Counselling: The Student Counsellor provides psychological counselling for a variety of personal and academic related problems, e.g., difficulty adjusting to student life, depression, anxiety, grief, trauma, relationship concerns, issues related to sexuality, self-harming, low self-esteem. A session lasts from 45 minutes to one hour. Follow-up sessions may be needed. Waiting times for appointments vary according to demand. In some cases, referral to other medical specialists (such as general practitioners, psychiatrists, and neurologists) are made. All sessions are confidential unless you are at risks of harming yourself and/others.
Group Counselling: Various workshops are on offer at the Health and Wellness Centre, e.g., Learning styles, self-discovery, stress management.
Resource Room: The Resource Room at the Health and Wellness Centre contains up-to-date information on self-help materials. Access to the material is free of charge.
Welfare Services: The Student Counsellor is dedicated to your welfare needs. In cases of real need, we can provide food vouchers.
Academic Support and Advocacy: The Student Counsellor works to assist students with disabilities, e.g., extra time concessions.
Wellness Development: The Student Counsellor conducts a number of wellness dialogues/ activities relating to personal, academic, and leadership development, e.g., Substance abuse, cultural diversity, living a healthy lifestyle, mental health issues and gender-based violence.
Psychosocial Wellness Programme: Is a programme centred on social and mental wellbeing and aids in addressing the psychosocial challenges faced when bridging the gap between high school and university. The programme is also uniquely packaged to allow for successful transitioning through the different levels of university including to
A qualified Primary Health Care Nursing Sister, Sr. Danelia McCarthy, is available per appointment to registered SPU students ONLY. Emergencies will receive preference.
Services are available Monday to Friday between 08h30 and 16h00 excluding lunch hour which is from 13h00-14h00 daily. 
Please take note of notices that may be advertised from time to time with regards to any changes in services and or initiatives from the Student Health and Wellness Centre.
Services offered include the following:
Minor Ailments e.g., flu, earache etc.
Minor injuries
Management and treatment of infectious diseases like Chicken pox
Emergency assessment and possible referral/ treatment
HIV/AIDS management and treatment
Voluntary HIV counselling and testing
Screening services e.g., Sexually Transmitted Infections (STI) screening, Tuberculosis (TB) screening
Family Planning services including pregnancy tests
Crises Management like Sexual Assault, psychotic episodes
Referral to services not available on campus like dentist
Referral services
Students will be referred, if necessary, to the relevant services/ specialised services not available on campus. These services include dentists, psychiatrists, Thuthuzela Rape centre, CANSA, Robert Sobukwe Hospital, City clinic, West End Hospital, social workers, counsellors, Caritas.
HIV Counselling and Testing
HIV counselling and testing is offered at the Health and Wellness Centre daily as a walk-in service. There is no need to schedule an appointment. This is a voluntary testing service, with pre- and post-counselling. The procedure takes about 30 minutes where a student will receive results immediately. It is free of charge and students can be assured of confidentiality being maintained at all times. Students testing positive for HIV will be referred to PHC nursing Sister to start on Anti-retroviral (ARV's) after extensive counselling is done.
NB: Students WILL NOT receive a letter for missing classes in the event of HIV counselling and testing OR Pregnancy testing.
Senior students are trained as mentors to help fellow students.
Peer Mentors can make a difference in a students' living and learning life at the university and are a bridge between staff and students. Peer Mentors also run a number of outreach activities.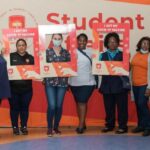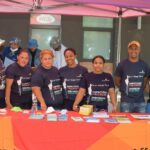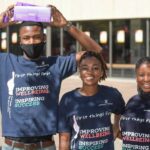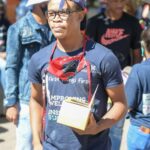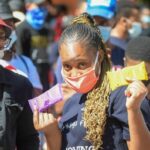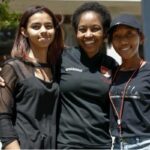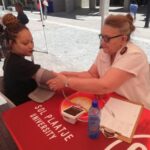 Follow us on social media