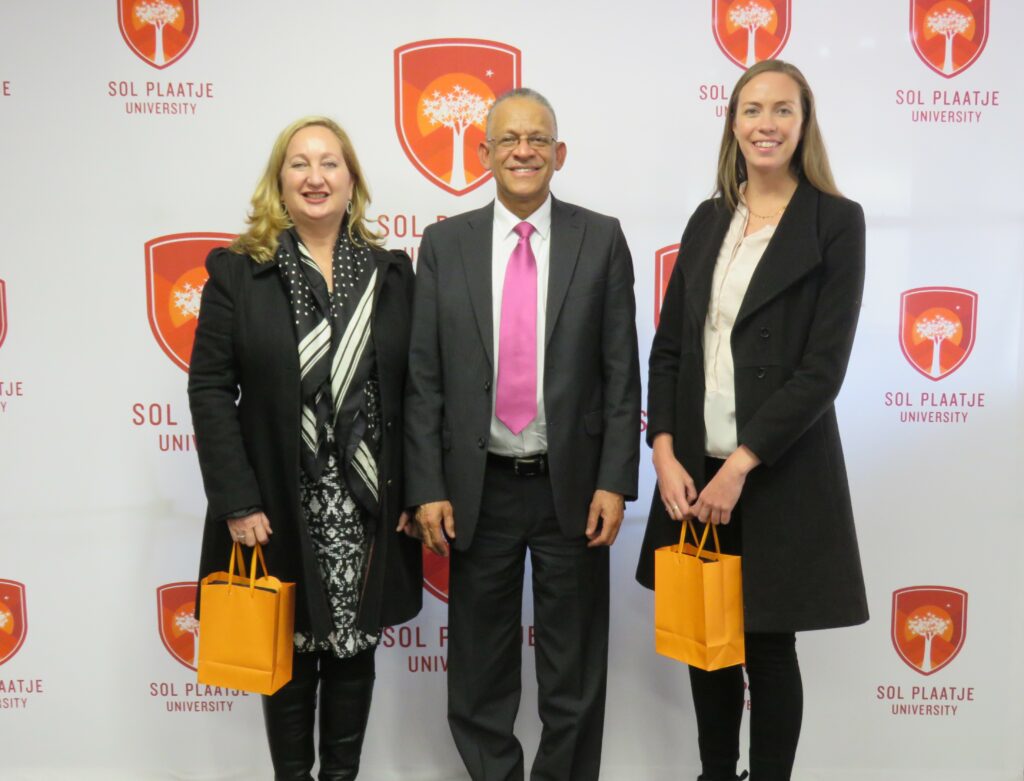 From left to right: Ms Tracey Webster, Chief Executive Officer: Oppenheimer Memorial Trust; Professor Andrew M. Crouch, Vice-Chancellor and Principal; Ms Bailey Corder, Operations Manager: Oppenheimer Memorial Trust
On Tuesday, 02 August 2022, Sol Plaatje University hosted a delegation from the Oppenheimer Memorial Trust led by Ms Tracey Webster (Chief Executive Officer) and her colleague Ms Bailey Corder (Operations Manager).
The delegation was hosted by Sol Plaatje University Vice-Chancellor Professor Andrew M. Crouch. In attendance were the Chief Operations Officer Mr David Kanguwe, Director of Research Ms Takatso Semenya, Director of Centre for CTLPD Dr Moeketsi Mosia, and the Director for Institutional Advancement Mr Qondakele Sompondo.
Professor Crouch emphasized the importance of engagement, partnerships, and good relationships with all stakeholders and surrounding communities. Commenting on the visit, Professor Crouch said, "This is a significant visit to us as it continues the long and historical relationship between the Oppenheimer family and the City of Kimberley. The visit by the Oppenheimer Memorial Trust to the Sol Plaatje University has great potential to assist and foster new growth in the research space as the university progresses towards becoming a research-active and vital participant in the research sector in the province and South Africa at large".
The CEO of the Trust, Ms Tracey Webster, believes Sol Plaatje University and the Trust can build a stronger partnership and engagement. The opportunity exists for both parties to impact the community and province. When asked what they hope to achieve through their visit to the university, Ms Webster said she believes collaboration with the university can have a lasting impact on the community of the Northern Cape. "The establishment of the university in 2014 introduced a new hope, a new and exciting rise in the youth gaining access through this institution of higher learning and training in the province".
The delegation also met with the postgraduate students, where they made a presentation on the scholarship opportunities within the Trust. Describing their involvement in postgraduate scholarships, Ms Webster said, "The Oppenheimer Memorial Trust wants to be part of the transformation and generation of new knowledge in the community through funding postgraduate scholarships to students and academics alike".
The Trust also wants to become more involved in the university's School of Education through their involvement in the university's training of new educators that are technology-fluent and well equipped for the 21st-century education.