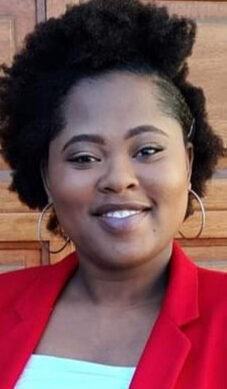 Born and raised in Kimberley in the Northern Cape, Ms Shanty Fisher has big hopes and dreams for her contribution to understanding the value of our shared past. Ms Fisher completed her Bachelor of Social Sciences undergraduate degree in Heritage Studies and completed her Bachelor of Sciences Honours degree at SPU.
She was encouraged by her supervisor, Dr Lourenço Pinto, to apply to the Polytechnic Institute of Tomar in Portugal to study towards her master's degree through their International Erasmus Mundus Master in Quaternary and Prehistory Scholarship Programme, which started in early 2023.
"I believe in learning and contributing to the future by understanding our shared past," Ms Fisher said when asked why she chose quaternary studies (the past 2.6 million years to the present day). "Therefore, my interest in the master's programme was motivated by my passion for heritage management and rock art conservation as it relates to the indigenous people of South Africa and the world."
 Ms Fisher believes it is imperative that she completes her studies, as many heritage sites in South Africa are endangered and have been vandalised. Once she graduates, she will have access to data that can assist her as well as other archaeologists and heritage practitioners in understanding the environment, landscapes, and the development and evolution of humans and artifacts during the quaternary period. Her studies will include specialist subjects, including Prehistoric Studies, Archaeological Studies, Cultural Heritage Management, and Rock Art Conservation Techniques.
 "The opportunity to study abroad for my master's degree will open doors of intense knowledge and skills that I could gracefully and gladly impart in my country of birth, and help me transfer skills to the province in which I study and currently reside, the Northern Cape. It's a place rich with archaeological sites but underfunded and under-researched. I would be lying if I said I am not excited, and I cannot wait to embark on this journey."
Sol Plaatje University congratulates Ms Fisher on this rich opportunity and wishes her all the best in obtaining her new qualification. We hope to hear about all her experiences and knowledge gained throughout her academic career.