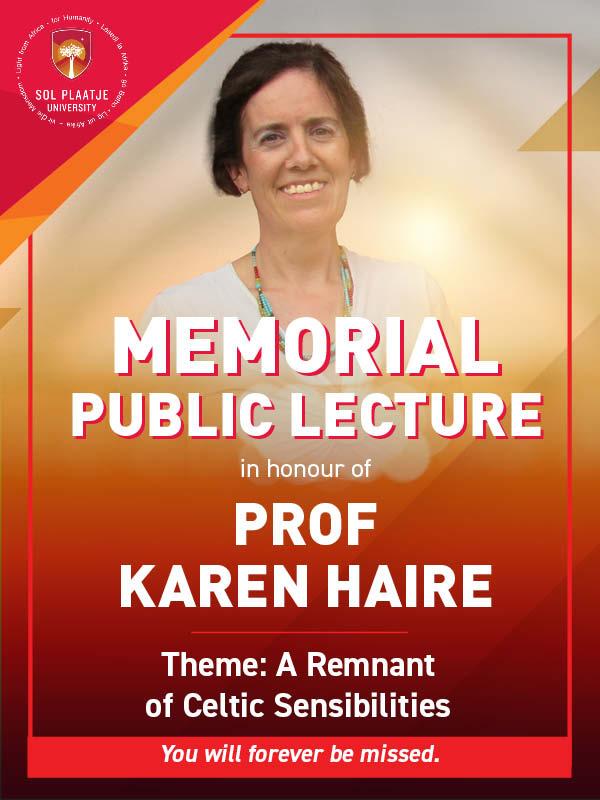 Professor Karen Haire was originally from Ireland and holds an Ed.D (International Education: Language and Literacy) obtained from Columbia University, USA; MA (International Political Economy of Development), Fordham University, USA; BA Honours (French and German), Durham University, England.
Prof Haire taught English and Communication and briefly served as the acting Head of School in the School of Humanities in 2021 at Sol Plaatje University.
Her area of research and passion focused on the South African man of letters, Sol Tshekisho Plaatje. She has published two co-authored works on Sol T Plaatje: the first, Lover of His People (2012), a translation into English of S.M. Molema's Setswana biography, with two researched essays and the second co-authored work, Bringing Plaatje Back Home. Ga E Phetsolele Nageng (2015), the first book-length critical work on Plaatje's oeuvre.
Her publications in literary journals, Alternation, English Studies in Africa, Tydskrif vir Letterkunde, South African Journal of African Languages and Journal of Black Studies epitomize her decolonising thrust: the (re)writing/telling of African peoples, cultures, stories and history from a postcolonial, non-Western and Afrocentric perspective.
As an educator, Prof Haire's experience included design and delivery of undergraduate courses in African Studies: Postcolonial (African) Literature; African Cultures; South African History and Apartheid and The Struggle (United States 2013-2019), as well as building academic/research writing capacity at tertiary institutions (South Africa 2008-2012).
Prof Haire was more than a colleague; she was a mentor and friend with a kind heart who truly lived to serve. She will be remembered for her creative and intellectual contribution to key processes and programmes development.
From your SPU family, fly high Prof Haire, we are confident that you and Sol T Plaatje are enjoying a cup of tea and having hearty conversations. You will be forever missed.